Laura Canada: Tops for $9.99 (Up to 91% Off)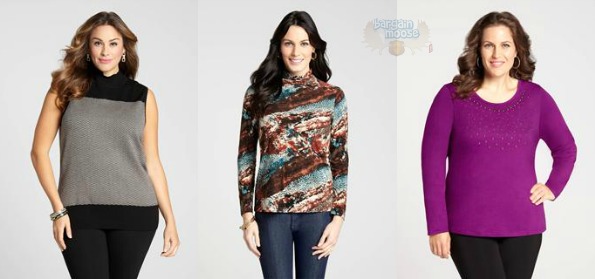 I ran across a select of tops on Laura Canada that are discounted up to 91% off their original price. All these tops are marked down to just $9.99 and there is limited stock available.
There are six tops in the sale that drew my attention right away. All are quality tops at deep discounts!
This Dolman Sleeve Cover-Up  in blue was $60 and is now $9.99. Pair it with a pair of jeans and a camisole or a lovely summer dress. The cover-up is available in size medium and is part of the Laura petites line.
The Tie-Neck Floral Print Blouse is built for the petite plus woman. The shirt features a banded hem with a cute tie-neck design. It is available in sizes 14 and 16. Originally $95, the top is discounted to $9.99.
The regular Laura line features this Conrad C Shirred Mock Neck Printed Top  that was $80 and is now only $9.99. The shirt was actually made in Canada (go local manufacturing!) and features a vibrant print that reminds me of volcanic rocks. The shirt is available in sizes large and extra-large.
The other three shirts are all part of the Laura plus size line. This Pull-Through Collar Floral Print Blouse was $95 and is now $9.99. The shirt is only available in size 16. This Stud Front T-Shirt in bright purple is my favourite of the tops. It was originally $75 and is still available in size X. Last but not least, this Mock Neck Herringbone Knit Top is the most discounted of all the tops. It was originally $115, which means at only $9.99, it is now just over 91% off. If you are a size 2X, then this is your lucky shirt. I like a fine herringbone pattern and this shirt does not disappoint. A black upper and black band at the bottom accents it.
In the honorable mentions section, I cannot help but include this pair of Laura Plus Cropped Tuxedo Pants I found that were $110 and are also now $9.99. They are in stock in size 20.
If you have the Laura Privilege Card, then you will get an extra 10% off both regular priced and sale items like these tops. The Privilege Card costs $35 for your first year with an annual renewal of $20 so I would only buy it if you shop at Laura Canada a lot.
Shipping costs a flat rate of $7.95 so you might want to check out their very extensive sale section to see if there are any other amazing deals you can seize at the same time.
(Expiry: Unknown)