Land's End: Up To 85% Off Plus An Additional $65 Off $200 With Coupon Code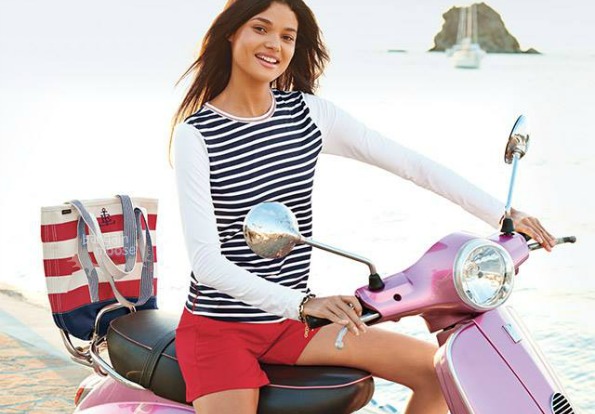 With summer coming quickly (only 4 more weeks of school!) I decided to check out Land's End for some deals on swimwear. If there is one thing (among many) that Land's End does right, it is their swimwear. Well, did I find a doozy of a deal! First of all, they have a last chance clearance section and in it, I found up to 85% off select items! That's what I see as true clearance. Then, I found a coupon code that will get you $65 off your $200 order, including these last chance items, if you add a swimwear piece to your cart. Use coupon code SEASIDE with pin 3220 to get your discount.
First, I have to tell you that Land's End is American, but all prices are in Canadian dollars. They do ship from the U.S., but all duties are calculated right at the checkout. Because of the amazing swimsuits they sell, I believe the duties are worth paying for this product.
While the coupon says $50 off $150, that is because it is $150 USD. As I added to my cart, I saw that it discounted me at $200, which may seem like a lot, but with so many great deals, I think you'll want to do it! I also noticed that it discounted me $65, so that was an even better reason to get my cart up to $200.
Some of the most discounted items I found that you can add to your cart include:
While this women's beach living adjustable mini swimmini swim skirt was not in the last chance section, I absolutely love it! A skirt is just perfect for a mom like me, who has no interest in letting it all hang out anymore, but wants to look sexy on the beach. Regularly $76.67, now $45.59.
I also love the family rashguards as the sun is just getting worse and worse for your body. I want to be out in it, but not get burned! This boys short sleeve baseball graphic rash guard was $32.58, now $10.41. I would get three, one for each of my boys.
My total for all of these items would be $210.70 and then $145.70 after discount! That's 13 items for under $150! On top of that, my shipping is completely free. Duty and taxes were not unreasonable, at about $30 for a $150 order. Considering in Ontario, you'd pay about $20 for taxes, you are only paying $10 for duty and still getting great deals and free shipping. Win-win!
(Expiry: Unknown)