La Vie En Rose Canada: $5 Swim Bottom & $10 Swim Tops (+ BOGO 50% Off Swimwear @ Regular Price)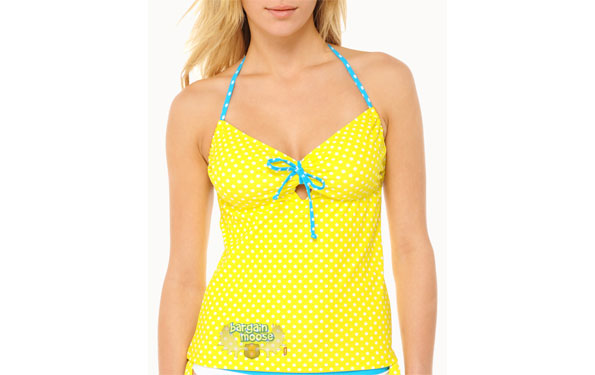 Summer may be drawing to a close but if you're in need of new swimwear, then check out La Vie En Rose's sale because you can either shop their sale section for $5 swim bottom and $10 swim tops or you can also take advantage of a "buy one, get one 50% off"deal on regularly-priced swimwear.
Confession time: this whole summer, I have only been swimming once. Pretty bad I know but in my defense, having had a baby recently, my body isn't exactly bad in tip top shape just and I haven't wanted to overexpose my little one to the sun and heat either! However, I have signed my baby up for a swimming class and as my old bikinis don't fit in the best way anymore, I need to get a new one and for just $15 ($5 bottom & $10 top), I'm definitely all in for getting it at La Vie En Rose.
Tankinis are the only ones I have been browsing and the dots and stripes tankini top immediately caught my attention. It was originally priced at $44.95 and is now just $9.99, which puts it at close to an 80% discount! It's yellow with white polka dots as well as light blue straps. The fun part about this tankini is that you can either get a yellow, light blue or even a white bottom to match. From La Vie En Rose's sale swim bottoms, there are also plenty of other ones that would match this top like this dots and stripes bikini bottom with white and yellow stripes and blue bands on the side or the one with blue and white stripes and yellows bands on the side.
I'm on the fence as to whether I like the soft solid jewel tankini top in khaki but it's an interesting choice as well, especially since it's available in all sizes. The detailing on the neck is what makes it unique and it looks like it could certainly hold everything in place as well if you catch my drift!
Choices of styles definitely aren't limited in the swimwear sale section but since sizes are, then you can also check out regularly-priced swimvsets to take advantage of a BOGO 50% off deal. I particularly like the wide stripe push-up bikini because of the way it ties in the middle. It's $39.95 and I experimented by adding it along with a random bottom to my cart but as it turns out, you really do need to buy two sets for the promotion to be applied, which means that you need to get 2 tops and 2 bottoms are regular prices of around $40 for a top and $35 for a bottom.
Shipping is free on orders over $85.
(Expiry: Unknown)