La Senza Coupon Code: Get 20% to 40% Discount, TODAY Only & Stacks With Multi-Buys & Other Promos! (EXPIRED)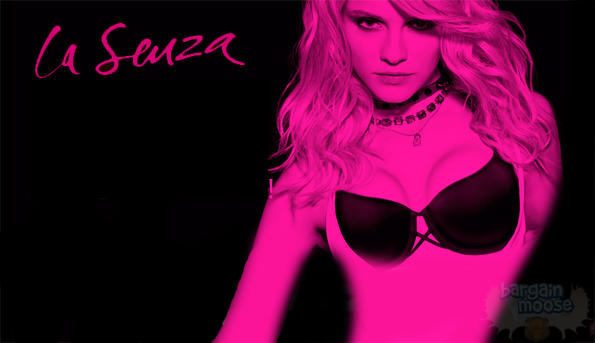 La Senza is my favourite lingerie store. I think they've got great quality merchandise and great prices to boot. I've spotted a new La Senza coupon code which is worth sharing - the more you spend, the more of a discount you will receive.
Click here to use the La Senza coupon code online now
Coupon Code: sexy3 (expired)
Discount: 20% off $50, 30% off $75, 40% off $100
Expires: 27th September 2014
We don't see La Senza promo codes very often. So when we do, it's worth a mention because their coupon codes are usually stackable on top of all the other promotions on their website. And that's exactly the case with today's coupon code. Here's an example of what I mean – these sexy panties are on a buy 2 get 1 free offer, and the coupon code applies on top of the promotion, giving a double discount. Here's a screenshot of the shopping cart to show you what I mean:

The original cart total was $75, the panty offer gives $25 off, the coupon gives a further $15 off, bringing it down to only $35 in the end. What's ever better is that the coupon code applies on the PRE-promotional price, making the discount a little bit higher.
There are many more offers on the La Senza site with which you can attempt to stack this coupon code, such as:
Depending on how much you spend, that'll dictate how much discount you get with the coupon above. I'll admit that I would find it very easy to blow $100 on La Senza right now. Almost all my panties are from there, and I haven't bought any new ones in about a year… I think it's time for a treat.
If I was to take advantage of the 7 for $28 offer… and actually  buy  28 pairs of panties, this would maximise the discount. I could technically buy 28 pairs of panties for $67.20 with the 40% coupon code, that's $2.40 each. Now, maybe it's a bit mad to buy 28 pairs of panties all in one go, but you could consider maybe placing an order with a friend or family member who also likes La Senza merchandise in order to get the great quality panties for that incredibly low price.
As for Canadian shipping, it's a flat rate of $9, there don't appear to be any free shipping promotions at the moment.