La Senza Canada: Up to 70% off Clearance PLUS Extra 30% Coupon (PLUS Potential Extra 10% off $100 & Free Shipping)!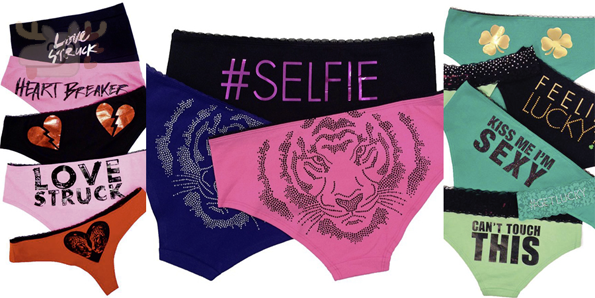 If your underwear collection is getting a little dated or grubby, it could be time to check out the online deals at La Senza Canada this weekend. Over in their clearance section, they've got reduced priced undies and clothing, on some of which you can make savings of up to 70%! But let's make this even sweeter – there's also a coupon code for an ADDITIONAL 30% discount off the top of that!!
Click here to use the La Senza coupon code online now
Coupon Code: TAKE30
Discount: 30% off sale & clearance items
Expires: 27th September 2015
Now, 70% discount plus 30% discount, doesn't equal 100% discount… that doesn't quite make sense. But when you add the two discounts together, you're looking at a final reduction of around 79% at most.
The example that I found at 70% was this beyond sexy thong panty, that was $16.50 and it's down to $4.99 in the clearance pages. That's a 70% discount on its own, but when you add the coupon code it brings these panties down to $3.49 – that's a final discount level of 79%.
Just note that the above coupon code does not seem to work on their stackable lingerie offers – e.g. the 7 for $28.95 on panties sale. Even so, those would be a good deal to throw in your cart if you happen to be buying something anyway.
What about shipping?
On all orders, shipping is a flat-rate of $9 which is a bit of a bummer. But you're getting a very high discount on these clearance items, as well as the 30% coupon code which really makes up for the shipping cost. I would recommend perhaps placing an order with a friend, see if they want to split the shipping with you.
Prestige Membership for 10% off & Free Shipping on $100+
But I've got an idea for you which is going to make a heck of a lot more sense – join the La Senza club here. It costs $10 for a one year membership. But for today's order, it will mean an instant additional 10% discount plus free shipping if your order is $100 or more. This means the card is pretty much paying for itself right away as it is covering the $9 shipping plus an extra 10% saving.
There are then added benefits throughout the year which you can read on the attached page, and it means you can take advantage of La Senza offers like this in the future too.
If you plan on spending $100 or more, then it makes the most sense to put the prestige membership in your cart – look at the extra discounts that have stacked up: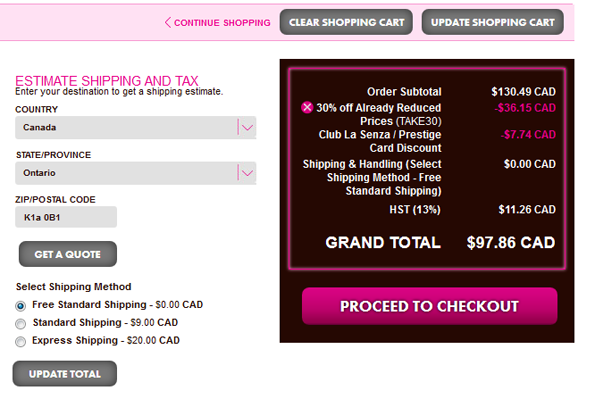 An order over $100 that includes the membership will get an extra 10% discount off PLUS free shipping worth $9!
Happy shopping, ladies!