La Senza Canada: B2G2 Sexy Panties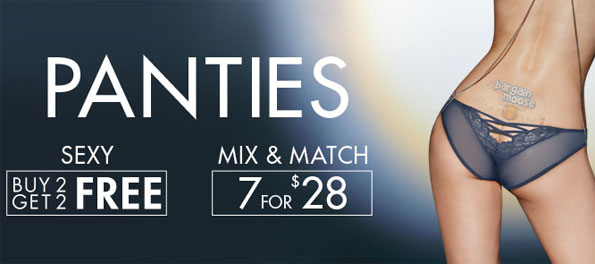 Sexy panties are expensive but right now, there's a pretty awesome promotion at La Senza. For a limited time, you can take advantage of a "buy two, get two free" deal on all sexy panties.
I can't stand it. Panties are just too damn expensive and the kicker? Sexy panties, which require less fabric than regular panties are typically more expensive. Now that just make absolutely zero sense.
So promotions like this one at La Senza are definitely pretty awesome. Once you click on the link and get to La Senza's site, you will see all of sexy panties have already been sorted by price.
The cheapest price tag you will see is $12.50 for either Obsession or Sexy Pin Up panties. Usually, just two would come up to $25 but this time, you will get four panties for $25, which comes down to just $6.25 per pantie. That's essentially half of their usual price tag, so it's pretty awesome!
The very first ones on the list are the Obsession one size g-string panty. I actually have these same ones and I love them because they combine sexiness and comfort. You can get it in a variety of colours like white, rose tan, smoulder black, sparkling grapefruit... that colour names sure are something, aren't they? :P
Sexy Bras: B1G1 @ $15
There is also a promotion on sexy bras: buy one, get one for just $15. The cheapest sexy bra you can get is the Scandalous lace push up plunge bra for $36.50 but most other bras retail for $42.50. So depending on which one you get, you can expect to save up to $27.50 on the second bra.
Shipping
Shipping is at a flat rate of $9 per order but if you spend over$75, then you can use our Bargainmoose exclusive La Senza coupon code MOOSE75 to get free shipping. Plus, if you get the Club La Senza card for $10, then you can save an additional 10% on your order. If you spend over $100, then it's definitely worth getting the card because the savings you accrue will essentially pay for the card -- win-win!
(Expiry: Unknown)