La Senza Canada: $3 Shipping & Sexy Panties 5 For $35.50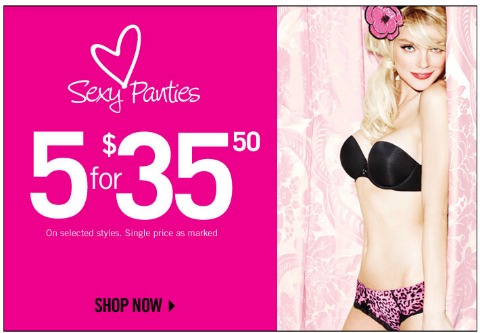 Enjoy $3 shipping from La Senza until 1 April 2011. Save $6 off shipping fees (reg. $9 per order) no matter how much you spend. Check out the Sexy Panties, on sale for 5 for $35.50.
Save big on sexy panties! All styles of sexy panties are regularly priced at $12.50. If you buy 5, you`ll save $5.40 per pair or $27 for all 5! You can find pretty much any fit of panties that you are looking for: G-String, Cheeky, Hipster, Thong, Brazilian, or Bikini. Whether you are looking for an everyday style like the No-Show Cheeky or the Ribbon Trim Thong or a more adventurous style like the Lace Ruffle Cheeky or the Mesh Thong, you might find your style at La Senza!
($3 Shipping Expires 1 April 2011)