Kids Jeans from $10, Adults from $15 @ Old Navy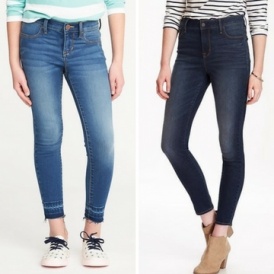 Need new jeans? If you're shopping around, definitely head to Old Navy Canada, since they have styles for up to 50% off!
With the deal, kids' jeans start at just $10 each, and you can find women's and men's styles from $15!
Most of these jeans are listed as Best Sellers or Hot Deals, which means you won't be able to combine them with any other promo. However, there are a few pairs marked "Extra Savings with Code at Checkout" – and you can get an extra 25% off those with the code BONUS!
Check out some of the best deals:

For kids
For adults

And don't forget, kids' and baby styles are still on sale from $2! Check out those deals here.
Orders of $50 or more ship free.