Kids' Clothes: Buy One Get One 60% off with Code + Free Shipping on $50 @ Beyond the Rack!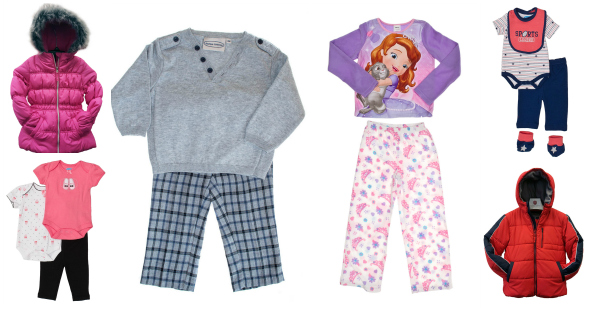 I opened my email to a wonderful Valentine's day surprise this morning: Beyond the Rack is offering free shipping on orders of $50 or more (they don't offer a regular minimum - shipping is a flat-rate of $7.99!) as well as buy one, get one 60% off certain event items, including pages and pages of kids' clothes! You'll just need to enter UHADMEATBOGO at checkout.
The sizes remaining seem to be rather random but there is so much to choose from, I know you'll find something! I even tried the promo code (UHADMEATBOGO) on the two more expensive item's I could find ($400 jacket for a 6 month old, anyone?) and it worked!  To get the most bang for your buck, you'll want to try for the free shipping threshold of $50 but beware this is calculate after the 60% BOGO discount.
I found a couple of inexpensive tees ($9.99 each) for boys - Ironman and the Avengers, of course - but combined it with an outfit consisting of jeans and a top ($24.99 each). In my cart, I entered the promo code and the t-shirts were both discounted by 60% saving me nearly $12, but I'm still over the free shipping mark of $50.
I saw this 4-piece Frozen Pajama Set for little girls right away; it's just $24.99. Combined with this incredibly cute Jessica Simpson Maria Coat, the pajamas drop to just $10 and free shipping is applied.
There are hundreds of items to choose from for both genders but it may take some searching to find some good combinations. If you use the handy size filter in the upper left to see just your child's size, it makes the hunt much easier! I even saw some odds and ends (sheets, slippers, rain boots, parkas) sprinkled throughout so it's worth a look regardless of what you need!
(Expires: 15th February 2016)