Jacob Canada: 92% Off Satin Bow One-Shoulder Blouse - Just $4 (Was $49)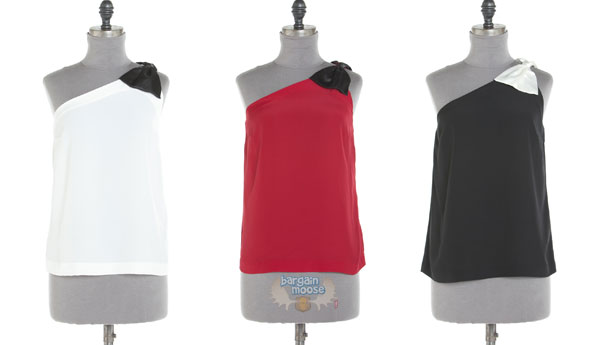 Prepare to be shocked: the satin bow one-shoulder blouse pictured above is on sale for just $4... yes, four dollars! It originally retailed for as high as $49 and is now down by a whopping 92%!
It's available in three colours: white, red, black and if you're on the fence about which to get, then I definitely recommend getting one in each colour because it's definitely worth it at that price! Keep in mind that although it has satin in its name, this blouse isn't actually made of satin but is 100% polyester instead. I would assume that their referral to the luxurious material is based on its texture and feel. A couple of years ago, I bought a satin-like blouse (sleeveless as well) from Jacob very similar to this one and it quickly became one of my favourite tops to wear, especially tucked into dress pants.
There are even a number of belts on sale for just $4. I'm not one to buy or even wear belts very often but $4 is a price I wouldn't hesitate to pay, especially for the colour-block elastic wide belt as it was originally $39. It's available in either dark blue, white or dark beige but there are plenty more belt styles to pick from. Just check the sale section and sort the merchandise by price from lowest to highest.
Although it's not available in every size, I also spotted the stretch sateen ankle pants. They were originally $59.90 but are now 87% off at just $8. They have a slender fit and are actually made from 100% cotton.
Shipping is free on orders over $100, otherwise a $9 fee will apply. Luckily, you can also save 15% off new arrivals and 40% off the summer collection right now as well (discount is already reflected on the site).
(Expiry: 1st July 2014)