Jacob Canada: 40% Off Sweaters & Cardigans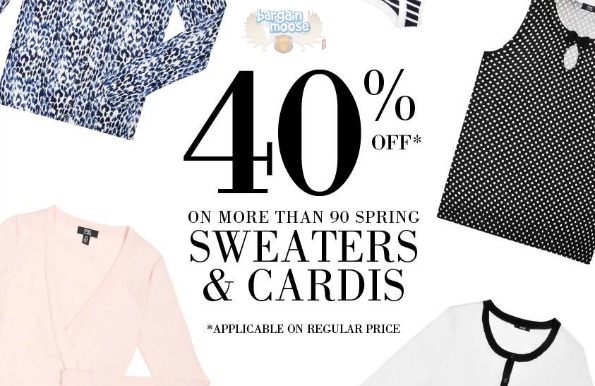 Stock up for next year's cold spell with 40% off sweaters and cardigans at Jacob.
Cardigans are so perfect. I was very happy to discover cardigans. It means you can wear whatever you want underneath and top it with a cardigan, which you can take off or put back on. If you are cool, pop it on, when you are hot, pop it off. When you get a stain on your shirt because your kids like to rub their peanut butter lips on your tummy and you are in a public space, pop it on. When you have to run out and you don't want anyone to see your I heart NKOTB t-shirt, pop one on. The uses for the cardigan are really endless.
I see a number of fashionable and pretty cardigans and sweaters at this sale, as I feel Jacob really caters to the feminine of a woman.
I love the uniqueness of this multi-way cardigan. Also, because it is multi-way, that makes it multi-functional and because the cardigan is already multi-functional, this is a bonus on a bonus! It was $69.90, now only $41.94.
The open cardi with frills is one of my favourite cardigan styles because it is super flattering. The frills take attention away from any tummy issues you might have, which means this is just one more use for a cardigan. Was $69.90, now $41.94.
Get free shipping on orders over $100.
(Expiry: 6th April 2014)