Jack Of All Trades: $5 Off All The Hobbit Movie Tees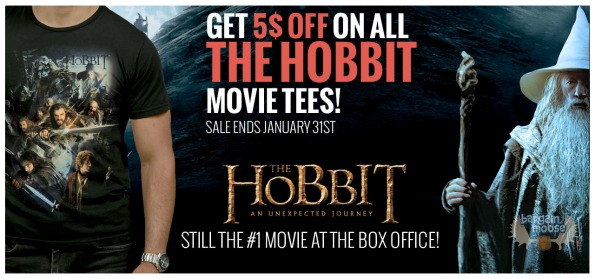 Get $5 off all The Hobbit Movie tees right now at Jack of all Trades.
I really don't know anyone who isn't a fan of The Hobbit. Show your support for the movie with these stylish tees. The t-shirts are comfortable and made from 100% cotton. Now only $20, regularly $25. Choose from:
In case you wanted to know a little more about Jack of all Trades, the main goal of the store's creators was to celebrate art on a t-shirt. They create the designs themselves and discontinue often, so most shirts are completely unique. The t-shirts are created in North America and screen printed in Canada. Everything must be perfect before this company will even sell a t-shirt. Not only are these shirts unique, locally made and perfected, but Jack of all Trades donates proceeds of every shirt to children's charities in Canada. This is a shirt that not only looks good, but that you can feel good about as well!
Get free shipping on orders over $50.
Expiry: 31st January 2013