Items From $1.50 Free Shipping No Minimum @ Mark's Work Warehouse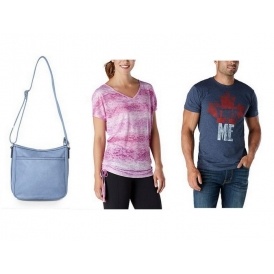 As soon as I knew Mark's was offering free shipping with no minimum purchase required, this Labour Day Weekend, I jumped over to the clearance section and spotted these Nalgene Water Bottles that hold just the right amount of water, 650 ml. You can buy them in 4 different colours and they are only $5.88.
I just found the cutest gift for people who love playing crib! For $2.88 this is going to be great little gift: Wind River Portable Cribbage Bag in Tote Bag.
For the man in your life, this 'Canada - This is Me' T-Shirt is very cool. It's only $9.88 and of course, it ships for free!
I'm going to buy this Alred Sung Crossbody Bag in periwinkle. Two other colours, caramel and black are also available. This Alred Sung bag is on clearance for $24.88.
What a pretty shirt this Burnout Active T-Shirt is, and it's priced at $14.88. Only the small size is left, so if you want it you'd better put it in your cart and check out.
Enjoy your Labour Day Weekend and enjoy the free shipping that Mark's is offering!