H&M Canada: 25% Coupon (Virgin mobile Members Only)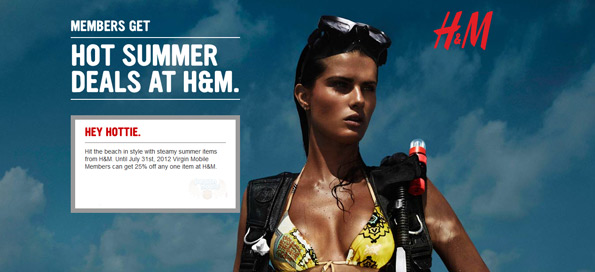 If you are a member of Virgin Mobile, you can grab yourself a 25% coupon for use in-store on a single item at H&M Canada.
Terms:
Hit the beach in style with steamy summer items from H&M. Until July 31st, 2012 Virgin Mobile Members can get 25% off any one item at H&M.
I quite like H&M clothing, but I do find that their clothes are quite small fitting. I got a pair of denim shorts in a Toronto store last summer and they're really sexy, but very very snug!! I'm of the opinion that most H&M clothing is pretty fashionable, very reasonably priced... but perhaps it does go out of fashion quite fast, as they do tend to follow the seasonal trends. But you can't beat them for picking up some cheap and trendy clothes from time to time!
(Expires 31st July 2012)