Garage Canada: New Spring Soft Tops – B1G1 For $10 + Free Shipping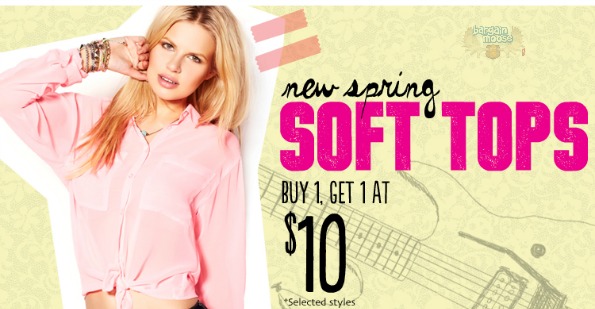 Garage Canada is offering a buy one, get one for only $10 on selected styles of soft tops as well as free shipping.  The shipping offer does not apply to Nunavut, Yukon or Northwest Territories and cost will be deducted automatically at checkout.  No codes are required and offers are for a limited time only.
Wow, at these prices I think I'll get four tops and free shipping as well, that's awesome.  All of these are $29.90 and the second one is only $10, so I can four tops for only $79.80 instead of the regular price of $119.60.
This white Front Tie Pocket Chiffon Shirt is definitely my first choice, I just love all the buttons and the casual relaxed look.
I am drawn to peachy pink colours and this Long Sleeve Chiffon shirt is a lovely Diva Pink.  This features the long sleeves with roll up button tabs, which is great because I always roll up my sleeves.
Polka dots are rather attractive with the right jeans and accents and this Front Tie Polka Dot Chiffon Shirt is an off white with black polka dots making it compatible with many other colours.
This Front Tie Pocket Chiffon Shirt is my favourite out of all the black shirts available.  I do like the front tie look, although I'm not as slim as I'd like to be, but we'll see how it looks.
Be sure to visit our Garage Canada coupon page for an exlcusive coupon code giving you an extra 15% off your purchase
Shipping: Free until 14th February 2013
(Expiry: Limited time only)