Garage Canada: 3 Tanks/Camis For Less Than $20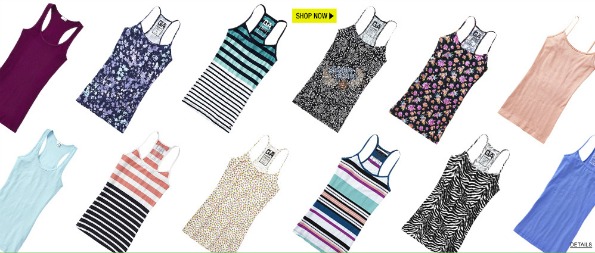 Garage Canada has a cool BOGO offer. Right now, buy two tanks or camis and get the third free. Their tanks and camis start as low as $9.90, so you can get three of them for less than $20.
With the heat starting, you'll want to wear as little as possible without being naked. True story. Tank tops and camis are the perfect way to give your arms some breathing room, and look good too. Garage has fantastic prices on their camis and tanks, so getting one free when you buy two, makes it that much better.
When it comes to tank tops, I much prefer the racerback style. I didn't used to like this style because my bra hung out the sides, but now I have racerback bras. I find this style makes my back and shoulders look much more toned than with a regular style. Garage's sheer racerback cami is available in white or black or a number of other colours, and is only $9.90. I'd get three of these in varying colours.
If you are looking for something with a print, my favourites include the striped, animal print and floral. These styles are all $12.90, so you'd pick up three for only $25.80.
Not all of the tanks and camis are on sale in this section, but it is easy to see which ones are as it says right underneath. I did see that there is another promotion going on, with tops being buy one, get one free, which is a fantastic deal as well. I found this cropped cami for only $8, on sale from $14.90. You can buy two of these shirts - one for you and one for your friend, and still pay only $8. That's a pretty sweet deal!
You'll have to spend $50 to get free shipping, but I think this won't be hard and you can fill your cart to the brim with unforgettable deals!
(Expiry: Unknown)