Gap Canada: Shop Early Save More Event Up To 35% Off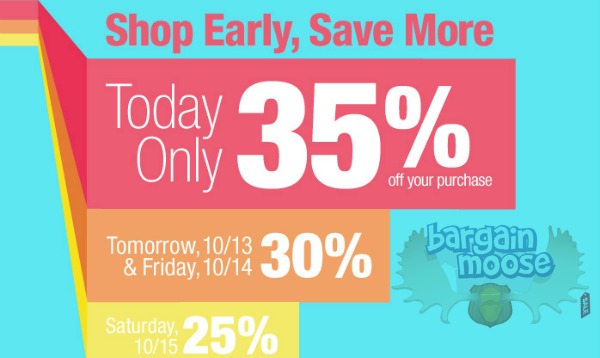 Shop and save this week at the Gap and save 25-35% off your purchases depending on how early you shop. Save 35% today, tomorrow and Friday save 30% and on Saturday you'll save 25%.
Discount: 25-35% off
Coupon Code: GAPCLINE
Expiry dates and times vary: 35% off expires 12th October, 2011 at 12:00 am ET, 30% offer expires 14th October, 2011 at 3:00am ET, 25% offer expires at 3:00 am on 15th October, 2011.
The discount can't be used on leather and suede items, Kids and Baby Warmest Outerwear styles and women's shoes.
With Halloween coming up, I've been looking for some Halloween themed tees for the kids to wear to school. Like many schools, costumes are not allowed on Halloween. However, it's ok to wear a non violent Halloween t shirt. For little boys, this Spooky Graphic Tee with a skateboarding ghost is cute for only $9.09, down from$13.99 (reg. $19.95) and for toddler girls, this spooky sparkle graphic tee is as friendly and sweet as can be for $11.04, down from $16.99 (reg. $22.95).
Best discount is today, so get shopping! There are so many styles and sizes available in the sale sections!