Fundies Canada: Up to 80% off Clearance & New Free Expedited Shipping Coupon! (~NSFW)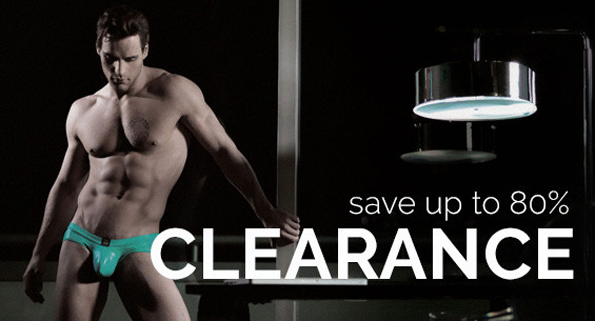 A few months ago, Avigayil wrote here about a great deal on men's underwear from Fundies Canada, involving 80% discount as well as a free shipping coupon. Now, most of the items she mentioned are sold out, but I've just found a brand NEW free shipping coupon so it's worth a mention, as well as highlighting a few new deals in the clearance section which are up to 80% off.
Click here to use the Fundies coupon code online now
Coupon Code: summer-ship-15907
Discount: Free expedited shipping
Expires: Unknown
I've written NSFW (not safe for work) in the title of this post, because there are some images of scantily-clad men when you click through. If your boss is looking over your shoulder, you probably won't want to click through and take a look just now. However, if you're browsing from home like me, then you might want to take a look at all the eye candy!
I've linked above specifically to the clearance section, where you can find the steepest discounts and best bargains with which to pair the free shipping coupon. And here's what you will see at checkout: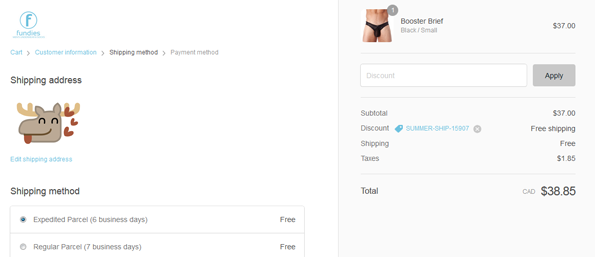 You can see the free expedited shipping option selected above. On a test order to Ontario, this actually took more than $18 off the cost! Great discount coupon!
In the clearance pages, I quite like how you can choose different types of styles; from ruffskin to boxer brief. There are a few styles on there that I cannot imagine my man wearing… but some aren't quite as "out there." E.g. I like these target square cut briefs which are $19.
I think the men's undies on Fundies aren't for your everyday wear… they're more likely to make a good gift… or even a gag gift, for some of the styles!