From $1- Selected Items Up To 60% Off @ Old Navy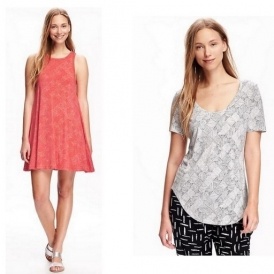 Old Navy has set some sweet sale prices of up to 60% off in the entire store!
Check out this swingy, stylin' dress in a red print that is selling for only $8, down from $29.94. There are 8 other colours/patterns to choose, if you want a different colour.
The neckline on this relaxed fit curved tee for women is rounded, so it's a nice change from traditional V-necks. I love the pattern and price on this one, it's only $5.99. There are 4 other solids and prints to pick from in this style, ranging in price from $6.99 to $10.99.
My friend's baby girl feels too warm in the summer time, and hates getting tangled up in dresses when she crawls around. This tank bodysuit for baby, which is available in a light blue print or a solid coral, is only $3.99! How perfect is this to sleep in when it's hot and humid?
You will find so many great deals at Old Navy - when you score a fantastic one that is too good not to share, let us know in the comments.
Shipping is free at Old Navy on orders over $50, otherwise starts at only $8.
(Deal expiry: July 4, 2016)