Free Yoga Mat When You Spend $75 on Alo @ The Bay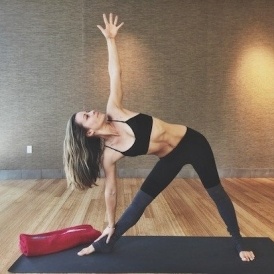 Today is International Yoga Day! To celebrate, The Bay is offering a free Alo Yoga Mat when you spend $75 or more on Alo products at TheBay.com. Spend $50 or more on Lolë products and get a free Lolë Scarf as well.
The Alo Yoga Mat is actually valued at $66 - so it is quite an excellent freebie. It comes in black or electric blue and you are able to choose which colour best suits you and your yoga mood. It is going to be super easy to spend $75 on Alo products.
There are some things on sale - like the Alo Yoga Deep V-Neck Yoga Tee which is now $29.70 down from $54. I think that top would go well with the Alo Yoga Airbrush Print Leggings which are on sale from $105 down to $52.50. Hey look at that - with just those two items, you've reached $75 and you have your entire yoga outfit.
Plus - if you spend $50 or more on Lolë products, you will get a free Lolë Scarf from The Bay Canada. There are quite a few products on sale there too, you just need to browse through and find something that suits your needs.
Spend $99 or more to get free shipping.
(Expiry: 21st June 2016 @ Midnight)