Extra 20% Sale On Dresses @ Beyond The Rack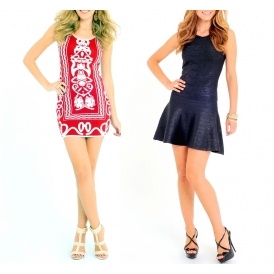 Beyond The Rack has been on a roll these last few days. Today, they bring us an awesome deal on dresses. With some already wildly low prices on designer pieces, this sale is making me want to swap out my winter coats for some cute dresses. In addition to those sweet low prices, you get to take an extra 20% off dresses when using the coupon code takemeout20 upon checkout.
If I could throw out all of my pants and swap them in for skirts and dresses, I would with absolutely no regrets. There's no denying it, I am obsessed. Sadly, long lasting and fashionable dresses aren't always the easiest to find, nor the easiest to afford. Thankfully, after looking through this sale, throwing out and swapping my pants really seems like a possibility!
This sale has everything from summer dresses, to work attires, to sexy night out dresses, so no matter the occasion, you're sure to find something that works for you. Now if dresses aren't your thing, be sure to look around on Beyond The Rack, as this 20% off deal is active in other departments as well.
Shipping for this sale depends on the item purchased, but the website does offer three free days of shipping following today's purchase.
(Expiry: March 8th 2016)