Dynamite Canada: Sale Items Up To 70% Off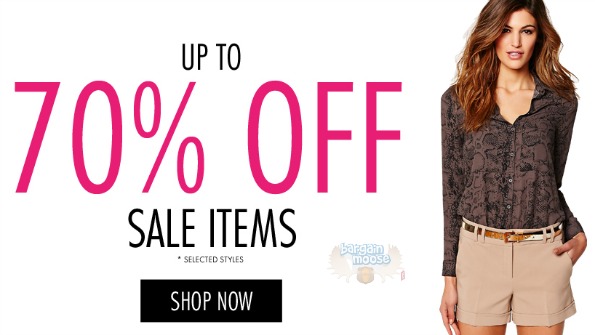 If you are looking for some really great deals on clothing and accessories, look no further than Dynamite Canada.  They have sale items discounted up to 70% off the regular prices right now.
You will find literally hundreds of items in this sale from tops, pants, skirts, dresses and all sorts of accessories.  The prices start at just $1.40 and go up from there. Additionally, all sale accessories will get an additional 30% off at the checkout saving you even more money.
A great addition to any wardrobe would be a cami.  I often find ones that I like and buy one in every colour because they are so versatile and are often fairly inexpensive. I found this solid basic cami that was $9.90 and is now just $5.  It comes in a few different colours so at that price, you could get one in every colour and not break the bank.
Another great find is this large hair doughnut.  It was $5.90 and is now $2.  Since you will save an additional 30% at the checkout, the price drops to just $1.40!  These doughnuts make the trendy style of the hair bun a very quick and easy thing to do to your hair.
The accessory sale deal even includes cell phone cases.  I love this iPhone 4/4S Kiss Case that was $12.90 and is now $3.  Once you add it to your cart, the price gets discounted again to be just $2.10. I don't think I have seen an iPhone 4/4S case priced that low ever to be honest.
As for the cost of shipping, you will get free shipping for all orders of $60 or more.
(Expiry: Unknown)