Dynamite Canada: Metallic Eternity Scarves 2 for $15 & Free Shipping!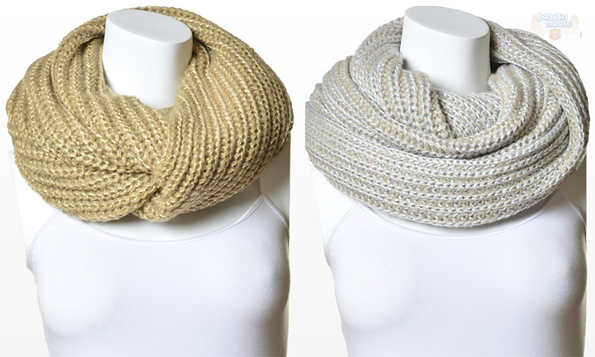 Dynamite emailed us to let us know that they are offering totally free shipping this weekend, with no minimum spend whatsoever. This is a handy deal, as they usually only offer free shipping on a $50 spend, with sporadic free shipping promotions from time to time. On top of the handy free shipping offer, I spotted some bargains in their sale section – buy 1 get 1 half price on various accessories and the above scarves caught my eye!
The deal I want to refer to is this Metallic Knit Eternity Scarf which was originally priced at $26.90 and the sale price is $10. It comes in either cream/silver or beige/gold, the two colours are pictured above. When you add two to your shopping cart, you'll see an extra $5 discount, bringing the total down to only $15 for two, as well as free shipping. Here's my shopping cart to show you the final deal:

The buy 1 get 1 half price deal and the free shipping means that you are getting these scarves for only $7.50 each, which is a really sweet price. They're a nice style and finish and could be worth buying two anyway, just for the colour change to match various different outfits that you might be wearing. Dynamite suggests some clothing combos:
Match it up with one of our lightweight parkas, trendy pullover sweaters and skinnies for the perfect fall look.
I got a couple of eternity scarves from one of the daily deal sites last year, and I've been wearing them every day, since! They are a really versatile fashion accessory and the colours shown above go well with pretty much any other colour-combo that you can think of.
An item of clothing or an accessory is hard to price compare, as you cannot really find like-for-like. But I did a little google search for "eternity scarf" to see what I could see, and to see how the price on Dynamite stacks up with the competition. The only thing I found similar in price was this one from Smartset – but you cannot see an image plus shipping is extra on top of the sale price of $7.45. From most other stores, you're talking about $10 to $20 for similar items, such as this one for $12 plus shipping @ Ardene.
Want some ideas for how to wear your scarf? Have a watch:
While you are on the Dynamite site, have a browse of the sale section for more deals.
(Expiry: 25th January 2015)