Dynamite Canada: 64% Off Printed Halter Cami - Now $9 (+ Extra 40% Off Plenty Of Other Sale Styles)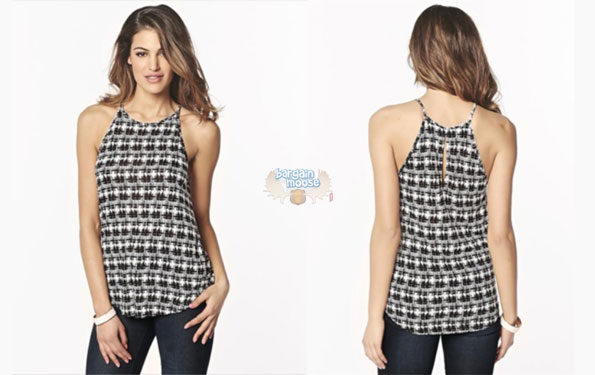 A top for just $9? Yes please! Dynamite is currently offering an additional 40% discount on all of its merchandise that is already on sale and among these, you can get the printed halter cami for just $9, instead of its sale price of $15 (reg. $24.90). The discount will be applied at checkout.
Dynamite is definitely one of my favourite stores because their styles are, for the most part, both laid-back and classy. Their merchandise is definitely the kind that can be worn both to the office or just on a lazy Sunday afternoon spent shopping around for more deals. ;)
Personally, I would love to wear the printed halter cami with a pair of jeans and boots (even in the summer) or even with a white blazer for a more tailored kind of look.
For just $6, you can also get the graphic v-neck tank. Originally priced at $26.90, it's on sale for $10 and further comes down to just $6. It's a white tank and features a cool-looking palm tree on the bottom with an outline of the beach. According to Dynamite, this tank is also among one of the most pinned styles and it's easy to see why as it's a very relaxed style.
Rompers are very in nowadays and the printed romper comes down to just $16.80 instead of $28 (reg. $44.90). It features a pattern of printed lines and could either be worn on its own or, as per Dynamite suggestion, with a white blazer.
I also spotted a great deal on 3 pairs of pants but while the price is awesome, the availability of the sizes, however isn't. So if you're any of these sizes, then make sure to snag yourself a pair as they all come down to $10.80 from an $18 sale price (reg. $29.90).
Since shipping is only free on orders over $50, I also suggest that you shop around the sale section and take advantage of some of the other great deals. If you don't reach the $50 minimum threshold, then a $9 shipping charge but at that price, you might as well get another top instead to get to the required total!
(Expiry: Unknown)