Danier Leather: Kelsey Stretch Knit & Lamb Leather Jacket - $99.99 (Save $200)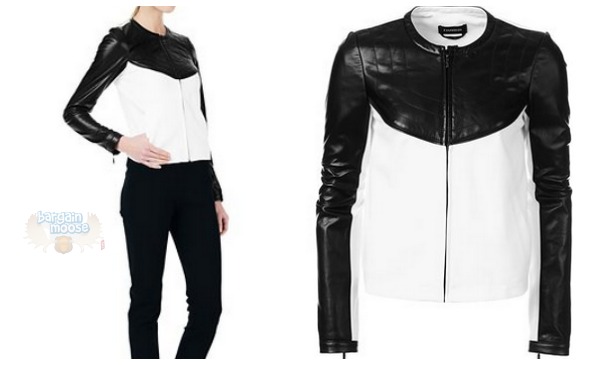 Danier Leather Canada has a very good deal on a beautiful Kelsey Stretch Knit and Lamb Leather Jacket for your wardrobe. Originally $299, the jacket is now on sale for just $99.99.
The white body is made of stretch knit with an intricate front stitch detail. Both the knit and the inside lining stretch to better fit your curves. The sleeves and upper portion of the jacket are made of black lamb's leather and the effect of the white and black colour blocking is quite striking. This jacket can be dressed down with jeans and runners or dressed up with a little black dress and spiked heels. A versatile jacket like this will stick with you for a night on the town and look fashionable while providing you warmth and protection.
Sizing starts at XXXS and goes up to XL with all sizes currently in stock. I always found it best to size down in Danier leather coats. While I wear a large in most jackets, I generally wore a medium in Danier leather coats (and sometimes a small). Leather tends to stretch out and adjust to your body over time, thus I was never afraid to buy a slightly tight leather coat. Leather also ages beautifully, which is just one of the many reasons I am a big fan of it.
I have a similar style jacket to this one from Danier. I love the zips on the cuffs and the form fit across the arms and the upper chest. However, I have never had a knit and leather combo top so that is pretty new to me. In general, though, this is a very good price for a Danier jacket and is akin to their Boxing Day sales. I used to go to Danier every Boxing Day for a new jacket so I am pretty familiar with their pricing.
You will receive free shipping on orders of $150 or more. However, this jacket is below that so you probably want to know that shipping will not cost an arm and a leg. Pay only $8 to get this jacket shipped expedited (5 - 7 business days) to you!
Around the fall, I always end up buying a new jacket. I think it 'tis the season' and all that. Will this be your new jacket of choice?
(Expiry: Unknown)