Danier Leather Canada: Sale Jackets Under $150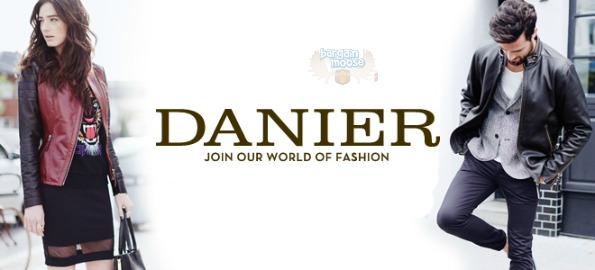 Danier Leather Canada has been my go to place for leather jackets for years. I use to buy one leather jacket a year there for a span of about five years after I moved out on my own. It really filled out my front closet nicely. Right now, they have great deals on leather jackets and I found a few on sale for under $150 I wanted to share with our Moosers on a budget.
Leather Jackets usually run over $300, so getting one for under $150 is a good deal. I have found Danier's leather to be generally quite durable. In fact, I have an Izod leather jacket that is falling to pieces right now, whereas the Danier leather jacket I have had for years is still in good shape.
This Kiara canvas and lamb leather jacket is an absolute steal at only $99, as it originally cost $249. The sleeves and accents are leather while the body of the jacket is made of canvas. I am pretty fond of canvas, wool, and leather (my favourite materials) so this jacket is a great combination. Canvas is so rugged and it ages really well. The jacket is available in XL.
Next on the list of fantastic jacket deals is the Haley soft leather hooded jacket for only $129, originally $349. This is the perfect everyday leather jacket in my opinion. I wish one of my jackets had a hood because they can be a lifesaver (and hair-saver) in windy weather and in the rain. This jacket is available in XXXS and in a large.
There is something about lamb's leather that makes it my utmost favourite: probably that buttery soft texture. It is to die for. I only have one lamb's leather jacket but it is a dream to wear. This Mila lamb leather biker just screams sexy and feels like a dream. If it were in my size, I would be adding another jacket to my collection. Originally $349, it is now on sale for $139. It is available in sizes XXXS, XXS, and XL.
Last but not least, the Roxy convertible leather jacket has a leather body and fabric sleeves with a hood. The jacket converts into a vest for optimum versatility. Originally $299, it is now on sale for $149 and is available in sizes XXXS, XS, medium, and large.
As all these jackets are under the free shipping minimum of $150, shipping will just cost $8, which I think is entirely worth it.
(Expiry: Unknown)