Custom Made (From Your Photos!) Swim Pieces 2 For $20 USD + FREE Shipping @ Cowcow.com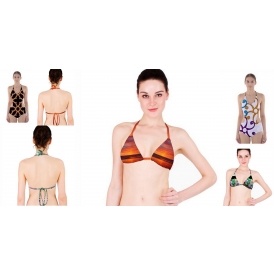 How cool would it be to design your own swimsuit to wear this summer? These swimsuits from cowcow.com are a unique concept and super easy to design online using your own photos! You can use photos of a pattern you like, pictures of your cats (tee hee!), photos of that sunset you and your husband saw when you were in Hawaii, and any other cool ideas you can dream up for a two--piece or one-piece suit.
This sale is for two swimwear pieces for $20 USD plus free shipping using promo code WAVES during checkout. The promo ends on May 7, 2016. You can select two bikini tops, or a bikini top and a bottom, or two one-piece swimsuits—whatever combination of two pieces that you like.
I would really watch for sizing. This product ships from overseas; sizes can tend to run a bit smaller than USA/Canadian sizes, so make sure you use the size chart that they provide! Larger pieces (XL to XXL) are priced slightly higher, from $2 - $6 per piece. It will also take a few weeks to arrive, unless you select faster shipping options without free shipping.
It is very easy to design this swimwear for yourself or as a gift for someone special. So easy in fact, I quickly designed a few pieces to display in the photo, so you can see. There are no limits as to how many of the 2 for $20 USD swimwear pieces you can purchase, so you will probably want to design more than a couple of pieces. You may use Paypal when you check out, or credit card (Visa, MC, and AMEX are also accepted) as payment.

Shipping is FREE!

How would you personalize your swimwear? Tell us in the comments below!

(Deal Expiry: May 7, 2016)