(Expired) Cotton Ginny Clothing Stores: Up to 70% discount this weekend!
UPDATE: now expired.
Where: In Store @ Cotton Ginny
How: Print out this email
Discount: Up to 70% off red tag items
Expiry: August 24th 2008
I just got an email from Cotton Ginny telling me about a special sale they have on their red tag clothing items this weekend. Until Sunday the 24th of August, here's what you can get:
Buy 1 item and get 50% discount
Buy 2 items and get 60% discount
Buy 3 items and get 70% discount
70% off their clothes is a whopper of a discount!! And I'm sure it would be very easy to find 3 items you like. Cotton Ginny is a women's clothing store, based in Ontario, but they have locations nationwide, as can be seen on their store locator (cannot link to it as it is a flash based website).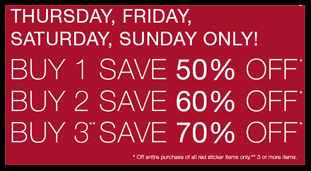 Happy discount shopping!!
- Anna