Clothing for Everyone! Flash Sale From $13.50 + Free Shipping @ Silver Jeans Co.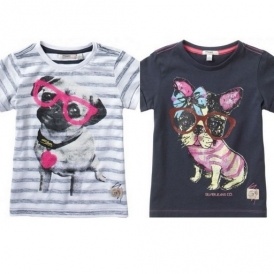 Everyone loves a flash sale, almost as much as a flash mob event. There's no singing in this one, but you won't feel crowded as you leisurely stroll through the clothing online in this fantastic flash sale at Silver Jeans Co. Notorious for their high fashion jeans, you will certainly find something great in this sale.
Such as this toddler girls Short Sleeve Knit Shirt - the cute pug puppy on it will be adored by your (very) little one, as the only size left in this sweet design is a size 2 T. The price is $13.50, down from $22.50.
Here is another Puppy Themed Short Sleeve Knit Top that will also be loved by your toddler, this time it's available in sizes 3T and 4T! It too, is selling for only $13.50.
Your little buccaneer will enjoy this grey boys 'Black Market' Pirate T-Shirt, again also $13.50. This Tee is 100% cotton, for excellent cool wear in the hot summer. This shirt is also available in navy, size 3T with a slightly different logo on it.
How would you like to save over $40 on a pair of jeans? Suki Mid Straight Medium Wash Jeans look like the perfect pair of jeans to wear daily. These are on sale for $61.20, down from $102.
There are quite a few jeans in the selection to watch for that are on sale for $61.20, and you can create a 'refined search' by entering your size in on the left hand side of this link here.
Shipping is free during this promotion on the selected sale items! The Silver Jeans Co. also offers free returns and free exchanges, so no worries if something doesn't fit!
(Deal expiry: June 8, 2016)