Clothing & Accessories From $3 @ Hollister Canada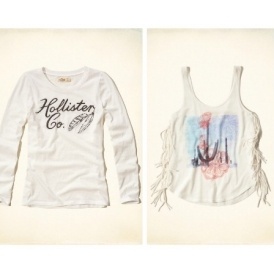 It is sweater weather! My favourite time of the year, where we get to snuggle up in front of the fire with our favourite sweater, a delicious hot chocolate and a good book. If you need to update your Fall wardrobe, then I definitely suggest you head on over to HollisterCo.ca. Prices start at $3.18 after you enter the code 31166 for an extra 20% off your entire purchase.
This Side-Fringe Graphic Tank isn't really sweater-weather apparently, but it is super cute. It is on clearance from $17.95 down to $5.99 - but when you use the extra 20% off coupon, you'll pay just $4.79.
For something warmer, I wouldn't hesitate to grab the Lace-Up Ribbed Polo which is on sale from $32.95 down to $9.99. With 20% off, again you'll pay a lower rate of $7.99 and this top comes in black, grey or white.
Plus, for a limited time you will get free shipping on orders over $50 from HollisterCo.ca.