Cascade Front Metallic Black Dress Was $175 | Now $50 & Up To 70% Off Other Items @ Laura Canada Clearance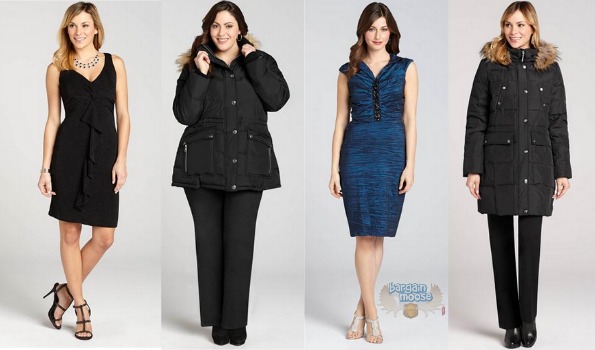 Right now, you should check out this beautiful Cascade Front Metallic Knit Dress. This dress was $175 but now is only $50 @ Laura Canada. Many dresses, coats and other clothes are on sale for deep discounts including special sizes such as plus and petite in this mega clearance sale.
Here is the new little black dress you have been searching for. Check out the Cascade Front Metallic Black Dress. This dress was $175 but is now only $50 @ Laura Canada. This chic dress is made of a slightly stretchy material that gives you a form fitted look and is flattering for multiple body types. The cascade front detail  adds interest to the dress. It can also draw attention away from your tummy and make your hips look leaner. This dress has a metallic thread weaved into the black fabric to give it a bit of shimmer. At 70% off, this dress is a steal that will have you ready for your next big event. It is currently available in sizes 6, 10, 12 and 14.
I love the beautiful Beaded Insert Crushed Shimmer Dress that was $175 but is now only $50. I like the gathered textured material that helps show off your shape without being ultra-revealing. This dress is still available in sizes 6, 10, 12 and 14. The details give the dress a little extra something that makes it look expensive. I think this would be a beautiful dress to wear to an evening wedding reception.
This past weekend, the zipper on my parka broke. The weather ahead for the next two weeks of course is forecasted to feel arctic. Needing a new parka quickly, I scoured the web for deals and ended up going to Laura. I am a weird size that often lands squarely between regular sizes and plus size clothes. I tried this Plus Size Double Zip Chest Pockets Anorak. This coat was $325 but is now only $120. Online they say the only size left is 1x. This was a well-constructed jacket and I almost purchased it. It is machine washable and comes with faux fur that is removable. The jacket is light but also warm. It is a good choice for a new parka, especially at 65% off.
I ended up choosing a down filled coat that is 50% off. Check out my gorgeous new Faux Fur Trim Down-Filled Coat. This coat was $295 but now is only $150. It is still available in sizes small, large and extra-large if you want one too. We went to an outside winter festival later that day and I stayed toasty warm outside for several hours. This is a luxuriously warm coat and I like how slim it is.
There are so many other great dresses, parkas, skirts, tops and other great deals in the clearance section at Laura. Shipping and handling costs is a flat rate of $7.95. It is well worth your time to browse some of the other great sale items before you complete your purchase. I would shop now before your size is gone.
(Expiry: Unknown)