Canada Forever21 discounts: 20% off $50 spend (Women's clothing)
This offer from Canada.Forever21.com isn't a coupon code, it's actually an automatic discount when you go through the checkout. All you have to do is to add $50 or more to your cart, and it will give you the extra 20% off!! Just note - it doesn't apply to gift cards or gift certificates (as you would expect).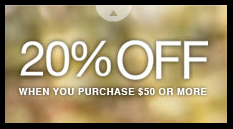 If you are partial to buying your clothing online, and like hunting down these type of fashion deals... then this could be a sweet deal!! Oh yeah, don't forget - you also get free shipping when you spend $75 or more!
A few items that I like and I think are pretty good value for money:
Rainbow Belt - was $9.80 (great colors - would go with anything!)- would be $7.84
(I'm pricing these assuming you'd be spending over the $50 minimum anyway)
- Anna