Burberry Canada: Sale On Designer Trenches, Bags, & Clothing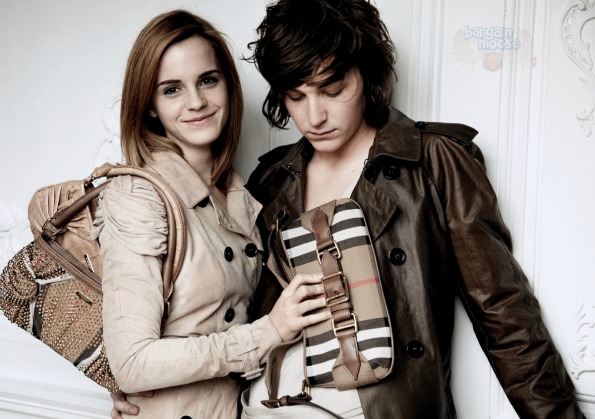 Burberry Canada is having a sale on their famous trench coats and handbags, as well as clothing and other accessories. If you love Burberry, (I do! I do!) then this sale is for you.
I am a huge Burberry fan. I love the checkered pattern and the quality I have always found quite satisfactory. I own a vintage trench and a small tote from the brand and I love both items dearly (though my tote is a bit small).
The sale section starts you off in the coats, and you can use the left side bar to navigate the rest of the sale section. The first thing you will notice is that Burberry has several different lines: Prorsum, London, and Brit. The Brit line tends to be the least expensive of the lines. However, during a sale I suggest you look at all the lines because often the more expensive lines have the deeper discounts. My pick of the coat sale would be this Mid-Length Wool Blend Trench Coat from the Brit line. Originally $1,195, the trench is now on sale for $750 in either black or red.
Next to the trenches, Burberry purses are probably the next most popular item. I certainly like my little tote and have been dreaming of getting a larger purse in their smoky checkered pattern. There are many purses on sale and some are quite the deal. This Medium Haymarket Check and Leather Tote Bag is available with their black leather accents or white leather accents. Originally $1,250, it is now on sale for $895.
Shoes are another love of mine - and probably of many people! My problem is that I have wide feet, which designer shoes are not known for accommodating. So imagine my surprise when I saw an entire section full of 'wide fit' shoes in the Burberry sale section. I am absolutely delighted! These Bridle House Check Ballerinas bear the lovely Burberry pattern I adore so I am positively drooling and trying to hide my credit card from myself. It does not work so well. Originally $325, they are now only $165.
Shipping costs $20, which is probably a fair amount given the cost of the goods you would be being shipped to you. Always be sure to consult size charts to make sure you are getting the right size. Different brands can size their clothing differently, so what is a size 8 in one brand is not necessarily the same size in another brand. Do your research.
(Expiry: Unknown)