Buffalo Jeans Canada Private Sale: Extra 35% Off Sale Items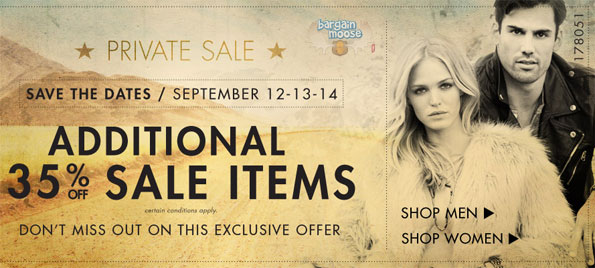 Every so often, Buffalo Jeans hosts a private sale and luckily, I found the right link in order for all of you Moosers to take advantage of it! During Buffalo Jeans' latest private sale, you can save an additional 35% off all merchandise that is already on sale but only until the end of this week-end.
First of all, you need to first create an account with Buffalo Jeans in order to take advantage of this discount and second of all, it only takes a minute to do so! Actually, it only took me about 30 seconds but that's with some quick typing. :P
I love Buffalo Jeans but I hate paying over $100 for them or for any pair of jeans for that matter. The Faith jeans were originally priced at $99, are now down to $79.99 and come even further down to just $51.99, which is close to a 50% discount off the original price and is rather awesome for a pair of Buffalo jeans. These ones in particular are blue vintage in colour, feature a straight cut and are actually 98% cotton with a touch of elastane for elasticity.
Luckily, there are also plenty of other items to choose from and although sizes are limited for some, most are still available. I also love the look of the Hanna pants as while they look like sweatpants, they can certainly also be dressed up with a low or even high heel depending on your preference. Available in a beached down (light blue) colour, they come down to just $33.79, down from a sale price of $51.99 (reg. $69).
Although it's only available in a small, the Oriella jacket is definitely worth a look. It's on sale for $69.99 (reg. $89) and comes down to just $45.49. Labelled as a bomber jacket, it's a great jacket for the oncoming drop in temperature and although it somewhat looks like a bicker jacket, it can definitely be worn for any regular outing.
Buffalo's private sale also extends to the men's sale items, so be sure to have a look at those as well. If you spot anything you like from the regularly-priced side of the Buffalo site, then make sure to use one of the Buffalo Jeans coupon codes on our forum to get a discount on those as well. There are different codes for a 15% discount on tops, dresses, men's blazers, outerwear and even jeans. Shipping is free on all orders over $99, otherwise a $9.99 fee will apply.
(Expiry: 14th September 2014)