Buffalo David Bitton: Customer Appreciation Days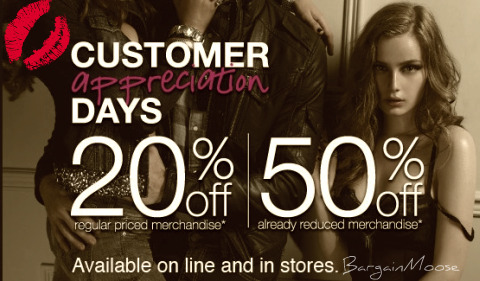 During Buffalo David Bitton's customer appreciation days you will receive:
20% off regular priced merchandise*
50% off sale merchandise*
as a thank you for shopping. This is available both online and in stores.
I find Buffalo Jean's site navigation not the best. The site took a while to load for me, so if you have the same problem you are not alone. It is visually beautiful but just not as user friendly as a site could be. Anyway: thats my opinion.
This sale is for 4 days only, the 16th of September to the 19th.
The fine print IS important so I have included it here. Note the asterisks above, they mean something:
CONDITIONS: * Applicable on selected merchandise ONLY. Valid from September 16th to 19th 2010, inclusively. This promotion cannot be combined with any other offer. Valid at www.buffalojeans.com and in all participating BUFFALO DAVID BITTON stores in Canada, with the exception of Buffalo Entrepôt stores located on Sauvé street (Qc) and Taschereau Blvd (Qc).