Bootlegger Coupons: Only 97¢ for 2 Scarves & A Shirt with $10 Off $10.01 Coupon *HOT*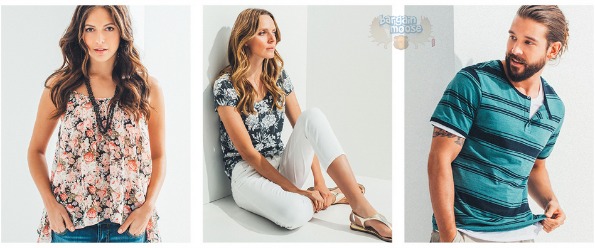 Receive $10 off any online order of $10.01 with the Bootlegger coupon code below. As for shipping, you can have your order shipped to store for free or else you will need to pay a shipping fee. Alternatively, you can just take the $10 off $10.01 printable coupon (also below) in store for redemption.
Click here to shop @ Bootlegger Canada now
Coupon Code: THANKS10
Discount: $10 off $10.01+
Expiry: 19th April 2015
This deal screams 'free clothing' since you only have to pay 1 cent above the value of the coupon. If you do not want to shop online, here is what you need to use this offer in store.
Immediately I hit up the sale section to see what sort of deals I could combine with this coupon. In the sale section, I loaded up my cart with three items. First, this Kismet uneven striped top is on sale from $34.50 down to $4.99. Between the two colours, all sizes are still available - extra-small through large. I cannot believe how cheap this top is really, because it has decent ratings and such a great size selection still. One reviewer said:
Cute shirt, fits true to size width wise, but it's on the shorter side! Would definitely look cute with high waisted anything.
Now, I am going for quantity of awesome stuff I can get for just over $10, so I added on two steeply discounted scarves. The intarsia print scarf was $22.50 and is now $2.99. Into my cart that went. The buffalo check scarf was also $22.50 and is now on sale for $2.99. Reviewers love the buffalo scarf. One woman said:
I love this scarf. The pattern is always eye catching and I keep getting compliments on it:)
I think both scarves look fantastic and are well worth the price. With these THREE items in my cart, I added the coupon code and this was my total: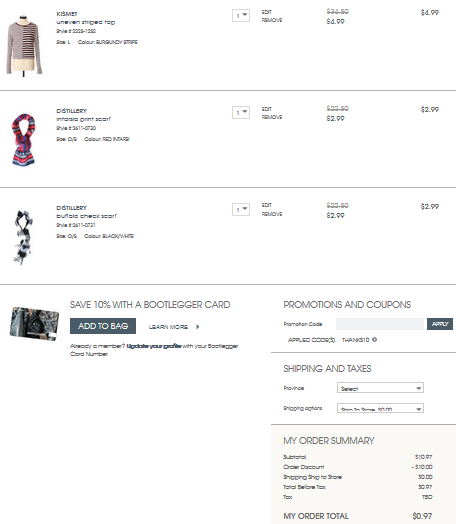 I am going to pay 97 cents for two scarves and a top! My mind is just blown at how amazing this deal really is right now. I selected in-store shipping as we have two Bootlegger stores right in town.
Even if I do not like any of these three items, it would be foolish not to buy them. For this price, I could give the scarves away to friends, family, or the homeless.