Blame Betty Canada Promo Code: Extra 20% Off Sale Items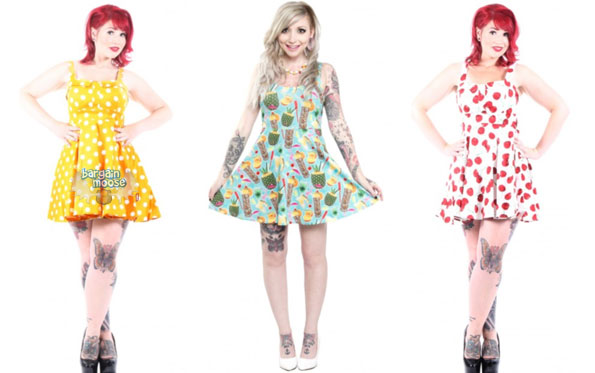 Love pinup, retro and vintage inspired clothes? Then hurry on over to Blame Betty because until the end of the month, you can save an additional 20% off already reduced styles.
Click here to shop the sale section @ BlameBetty.com now
Coupon Code: SEEYA
Discount: extra 20% off sale items
Expires: 31st August 2014
Although I have to admit that Blame Betty's selection wouldn't typically be my cup of tea, I actually love the polka dot pinup dress in sunset, which is pictured on the left of the banner above. Since it's on sale for $49 (reg. $59), it comes down to just $37.24. According to the description, it's "perfect dress from any 50's loving bombshell" and although I'm not a 50's lover, this is one dress that I would certainly love to have in my wardrobe. Plus, it looks like it could be worn without bras as it has passed bust cups -- always a major advantage in my book as a bra is the first thing I take off when I get home! The colour is also absolutely gorgeous and although I'm sure that even blonde bombshells would look good in it, I would think that it would help brunettes, like me, to stand out in even more! ;)
The model in the middle of the picture is wearing the tropical drink skater dress and it's definitely the kind of dress that you could wear this winter if you travel somewhere tropical! Of course, it would also be great for a poolside BBQ or outside barbecue, as Blame Betty's description suggest as it is tiki-themed with a pattern of pineapple and tiki drinks. It's on sale for $45 (reg. $55) and comes down to $36.
As for the dress on the right, it's the cherry sundae dress, which you can get for a reduced price of $37.24 as it's on sale for $49 (reg. $59). Although I initially thought it was a polka dot dress, it actually has red cherries all over it for an even more unique look!
Since shipping is at a flat rate of $8 per order, it would be a good idea to get more than just one item, but be sure to let us know in the comments section which dresses or items catch your eye. In fact, there is more available than just dresses as there are also a number of skirts, t-shirts, sandals, socks, etc. They even have a couple of phone cases, pillows and even lunch boxes!
For more Blame Betty coupon codes, check out our forum.