Beyond the Rack Warehouse Sale: Up to 80% off, Jackets From $7.99, $10 Free Credit For New Customers, Etc!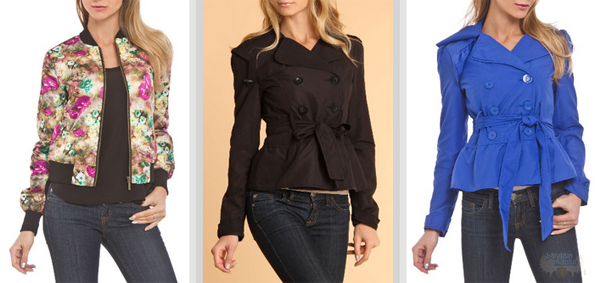 Over at Beyond the Rack, I noticed that they are currently having a warehouse sale with various discounts across many product ranges. One deal that stood out was on the ladies' outerwear – up to 80% off many items. And as I checked that out, I hit the "sort by price increasing," to see what I could see! I spotted some great pieces starting at only $7.99… read on, dear Moosers, and see what I've found. :)
The sizing and availability seems to vary on each item, so have a good browse round to see if there is anything in your size. Here are a few examples of what I spotted (please note that you may need to be signed in to your account on Beyond the Rack to see these items at these prices):
Fern Jacket in Floral Print 1 (L) was $75 now $7.99 (pictured top left) – this is a cute little piece! While it might not exactly be the weather for this type of light jacket just now, it would be super in spring and summer.
Yoki Delia Jacket (M to XL) was $90 now $9.99 (pictured top middle and right) – this jacket comes in a variety of colours to choose from, with certain sizes only available in certain colours. I'm quite taken with the dazzling blue.
Yoki Bushwick Coat in Olive (M & L) was $69 now $14.99 – I've got a very similar jacket to this which I bought in Simons in Montreal a few months ago. I love the style!
Free $10 Credit
If you've never before placed an order @ Beyond the Rack Canada, you'll want to stop by our coupon section here and use the special link there to get a $10 free credit for new accounts. Note that the link will activate your discount when you sign up, you don't have to add in any special coupon codes.
Shipping?
I've always found the shipping deals from Beyond the Rack to be a little bit odd. Right now it's, "Pay shipping once, get 3 days of free shipping." Fair enough… we know that you'd like us to spend, spend spend and place more and more orders. But I'd just love to see plain, old free shipping instead, without any qualifiers. Basic shipping seems to cost a flat rate of $7.99. This is the same price as the cost of one of the jackets on sale above! But… it may well be worth it, especially if you are buying a few items.
If you live in the greater Montreal area, there may be a chance you can pick up your item for free. You'll see this option at checkout on applicable items.
Returns?
In case you've never ordered from Beyond the Rack before and you're wondering about returns, you can see their full return policy here. In brief, here it is:
If you're not satisfied with an item, simply return it in its original condition within one year of receiving it and we'll apply a credit to your BTR account for the purchase price, less shipping and handling charges.
So it sounds like you would have to cover the cost of the return shipping yourself, they don't mention anything about free returns. The cost of the return shipping label seems to be $9.95, and it sounds like you are liable for that fee. Keep that in mind when ordering!
(Expiry: Unknown)