Beyond The Rack: Up To 80% Off Factory Refurbished Cuisinart Kitchen Essentials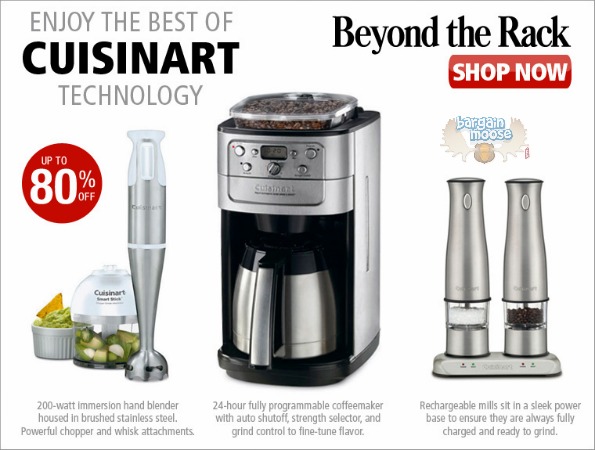 Beyond The Rack Canada has a great sale on Cuisinart products for up to 80% off. Brand authenticity guaranteed; items are direct from manufacturer. Limited time offer ends July 19th or while quantities last.
A Few of the Cuisinart products available:
Items are selling out fast and it's no wonder at these prices. I can't wait to get my Electric Cookie press to see if it really is that easy. Imagine, cookies in minutes and I can still say they're homemade.
The can opener states $100 value, but I did find one at The Bay that looks and sounds like the same item for $49.99 brand new. I think the difference would be the guarantees, Beyond The Rack offers a 90 day manufacturer warranty, while The Bay offers a 3 year warranty. Personally, I would be happy with the 90 warranty and $35 savings.
I also checked out the 12 cup food processors, listed at $159.99, valued at $395. The Bay shows their brand new processors for $339.99, so not far off the mark and again the difference being the warranty.
I think that Beyond The Rack has some great sales on these Cuisinart products, definitely worth taking a look, but some of their "valued at" prices are a little high, so check to make sure you are getting the best deal and if you're ok with refurbished items and a limited time warranty, you're good to go.
Shipping: Within 5 days of ordering as long as product is available, if not available, could be 2 – 3 weeks. Shipping is a flat $11.95.
If you're a new customer, don't forget to use our exclusive Beyond the Rack invitation code for a $10 discount on your first order.
(Expiry: 19th, July 2012)