Beyond The Rack Canada: Art Starting at $39.99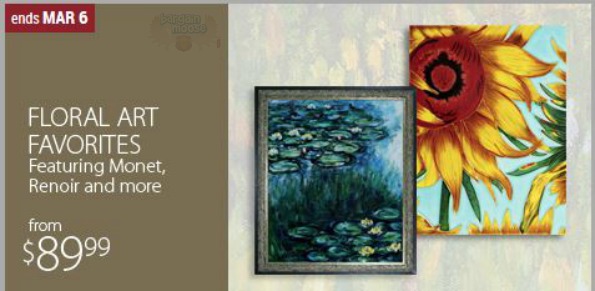 Beyond The Rack Canada is a favourite place of mine to get clothing and home decor at more affordable prices. If you love having art on your walls but can't afford the high price tag - I suggest this great little art sale going on at Beyond the Rack right now entitled 'Floral Art Favourites.' Prices start at just $39.99 (I know the banner says $89.99, but ignore that).
You will need to be signed into your Beyond The Rack account to use any of the following direct links.
There are four pieces for under $100 - suitable for any tight budget:
Keep in mind these are not originals - but rather reproductions or 'inspired by' the original works.
If you are looking for the highest discounted pieces for your art collection, these following reproductions of Money paintings might just be your thing:
Shipping is an $11.95 flat fee.
(Expiry: 6th March 2013)