Bench Canada: 78% Off Bench Floral Denim Skirt - Now $15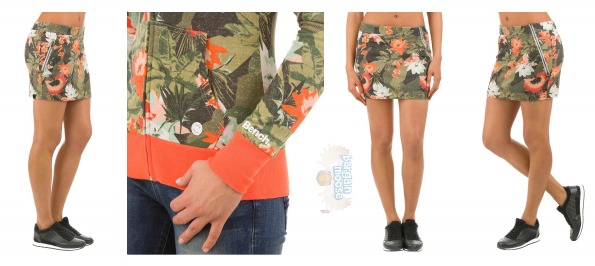 Bench Canada's extra 50% off their sale section is continuing, and I have been rifling through it to update my summer wardrobe. I ran across this cute Home Time Skirt in Windchime on sale from $69, down to $29.99. Once you add it to your cart it comes down to just $14.99.
The Home Time Skirt is a floral print denim mini skirt with asymmetric zip fastening on left side. It also has a zip fasten pocket on right side. The floral print sort of looks like a green cammo background with white and orange flowers on the foreground. It is sort of a funky take on a Hawaii print. The zippers provide a nice accent and break from the print itself, and I could see this skirt easily paired with sandals and a nice breezy tee. Some nice over-sized aviator sunglasses would look smashing with it as well.
The skirt is still available in all sizes: from extra-small to extra-large. I highly recommend checking out the size chart you can find on the page (just scroll down) to see what measurements correspond to each size. This denim skirt is made of 100% cotton so there is not a lot of stretch (no spandex content). Thus, you should be pretty close to the recommended measurements for the size you buy.
Bench Canada has some matching clothing an accessories in the same print. While not as good deals as the skirt, they still are all great deals with that extra 50% off in cart. This Bench Foliage Zip (Windchime) was $99 and is now $59.99. After you add it to your cart, the hoodie comes down to just $29.99 which is 70% off the original price.  All sizes are still available in this jacket as well.
You can also pick up accessories. The Mylani b Beach Bag (Windchime) is a great little bag for shoving everything you need in and hitting the pool or beach. Originally $79, the bag is on sale for $49.99. After you add it to your cart, it comes down to $24.99. Pick up this matching Mylani b Purse (Windchime) to stick in it for just $15 after all discounts (originally $39).
This is a fun little print, and I highly recommend picking up the skirt at 78% off and the matching hoodie at 70% off. You can mix and match them with your other clothing.
Shipping for orders of $99 or more is free; however, if you place an order under that minimum then you will pay $9.95 shipping. Ten dollars is not much to pay, given how much you are saving on the skirt alone.
(Expiry: Unknown)