Banana Republic Canada … Various Discounts For You!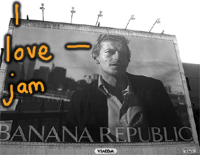 This is a bit of a double deal for you, from Banana Republic Canada.
Firstly, for tomorrow only (the 26th February 2009), you can get 30% discount off all regular priced merchandise in-store when you print and present this Banana Republic discount coupon. Doesn't sound like too bad a deal… might be handy if you had your eye on something nice there.
Secondly, this free coupon lasts a little bit longer, and applies to slightly different products. For a 20% discount on a spend of $125 or more, use this Banana Republic Coupon. Unfortunately I only have the French version of this coupon, but that shouldn't affect you being able to successfully use this in store. This one might be better for you as it applies to all products, rather than just regular priced clothing and apparel. Also, it expires on the 28th of February 2009.
And check out the store locator on Bananarepublic.ca if you need it.
Thanks JaBB.