Armynavydeals.ca Coupon Code: Flash Sale, 48% Off Everything!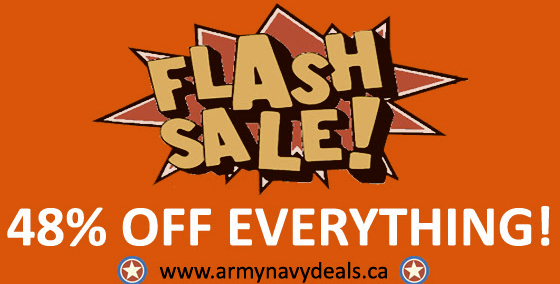 Over on Armynavydeals.ca, AKA the Uncle Sam's Outfitters website, they've announced a flash sale which is happening this weekend only. In this sale, they're offering a 48% discount on EVERYTHING on site, for 48 hours only. Here are all the details for you:
Click here to use the Uncle Sam's coupon code online now
Coupon Code: FLASH48
Discount: 48% off
Expires: 8th June 2014
The last time we blogged about this particular store, it was only a 25% discount so I was surprised and delighted to see an even higher discount percentage to write about.
Don't let the name of this store put you off – it's got more than just basic army and navy items. Uncle Sam's does sell a lot of this type of merchandise, but there's quite a varied range of stock and you can find everything from camping equipment to clothing.
I hit up the "deals" section first to see if there were any good bargains to be had. This Medium Canvas Bag Black is priced at $43.95 in the sale section and when you add the coupon code, it drops to only $22.85. OK it's not the most out-going item in the world, but it's perfect if you need a basic black satchel. Still in the bags arena, this Italian Camo Backpack is a little more colourful and it's priced at $98.95, dropping to only $51.45 when the coupon code is applied.
There are some pretty cute items on Armynavydeals.ca too… such as this kid's top gun costume for $88.27, or $45.90 when you add the coupon.
There is a good range of winter hats too… I know it's warm right now, but think ahead for next winter. You could order a really good hat for half price now.
Canadian Shipping Costs
As for Canadian shipping, here's what they say: first item for $14.50, second item for $0.99. So… that first item is a kicker, but it's good that additional items are a much lower cost to ship. And the 48% coupon code is such a high discount amount that it really offsets that shipping amount. The website is a bit strange in the fact that it's a Dot CA, but they don't state anything about where the orders are shipped from. They do state that "Customers are responsible for brokerage fees on orders over 10 lb shipping internationally" but they don't really explain if Canadian orders are international or not. Please let us know in the comments below if you've ordered from Armynavydeals.ca before and how it went for you.