Armani Exchange Canada: 30% Off Party Ready Accessories For Him & Her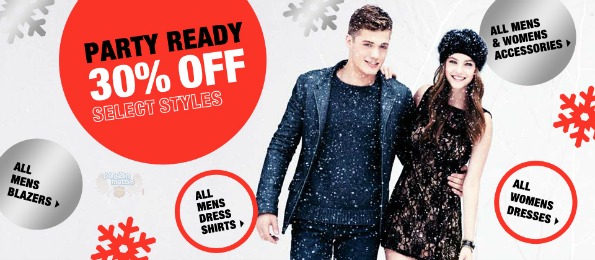 Armani Exchange Canada has a sale for 30% off select holiday party ready accessories for men and women.  Sale is valid for a limited time while quantities last.
We've had tons of sales to look at for party dresses and suits, even shoes, but what about all the accessories we need? Look at this stylish set of Pave Ear Buds that are $48 and with discount would only be $33.60.  These would be a great idea if you need to have your music with you while attending the holiday parties.  This could totally match any party outfit.  They work like any other ear buds, but now are decorated with crystal embellishments to look more like jewelry.
If you need a nice little clutch bag to go with any evening outfit, try this Silver Encrusted Clutch that is $138 regular price and would be only $96.60 after discount.  This is a pretty little clutch that has an encrusted design all over, is box shaped, and has a logo engraved clasp closure with detachable shoulder chain strap.
The guys also have some pretty cool stuff available.  This Layered Cross Necklace has a regular price of $58 and would only be $40.60 with discount. This a two-coloured studded cross pendant with adjustable clasp closure and comes with two different coloured chains.
If there happens to be a mandatory suit and tie evening, you may want to consider this Coloured Cufflinks and Tie Bar set that is $52 regularly and would be only $36.40.  These would be a great finish to any suit and tie look with the coloured glass embellishments on circle shaped cuff links with smooth finish.
There are many different accessory items available and some of them would make great stocking stuffers.
Shipping: $18 flat rate, shipped from US, but ArmaniExchange pays the duty.
(Expiry: Limited time only)