Aritzia Canada: 72% Off TNA Armitage Romper, Now $15 (+ Up To 70% Off Plenty Of Other Sale Clothes)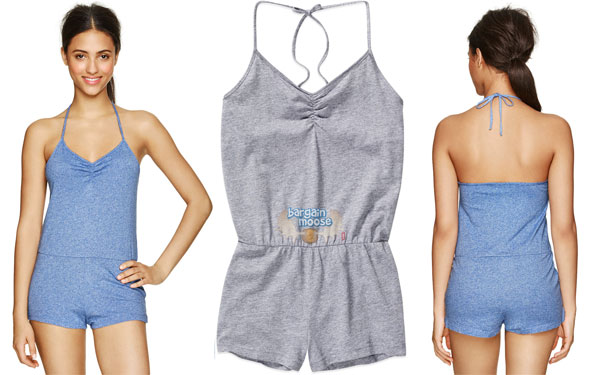 Rompers are very in right now and you can actually grab one for as low as $14.99 during Aritzia's sale. It was originally priced at $35.
Let me first make clear that although the image above features the TNA Armitrage romper in both a blue and grey colour, it's only available in the latter but I sill decided to include the blue one, despite it being currently sold out, to show you how it fits on the model.
The simplicity behind this romper is definitely what caught my attention. Since it's in a comfortable jersey material, it could be perfect for working out or it would totally also look great with a high wedge. A couple of weeks ago I saw an episode of The Marilyn Denis show on TV and in that particular segment, they were saying how great a romper would look with a pair of high Greek sandals, which is definitely a look you should try if you get this romper.
With the final season of Sons of Anarchy premiering in September, the Talula Mercer t-shirt also caught my attention as it features a large-scale skull on the front. Although I'm a huge fan of the show, I have been slightly apprehensive about wearing their signature black shirt with the SAMCRO patch as those who aren't familiar with the show may get the wrong idea, especially if I wear it while grocery shopping with my baby. But this shirt is more low-key and certainly shouldn't attract the same kind of comments as a full-blow SOA shirt might. It's only available in small and medium sizes and it's currently on sale for $9.99 (reg. $35).
I also spotted a fabulous deal on the Talula Keisei dress in crush (orange). It's on sale for $19.99 (reg. $65), which puts it at a 70% discount. It looks like the perfect summer dress as it's described as being lightweight. With drapey fabric, it's short and features an open back, which is sure to attract many compliments.
Shipping is free on orders over $150. You could try to fill up your basket to that minimum threshold, but since it is a pretty high minimum, there is also the option of simply paying the $8 flat shipping rate instead.
(Expiry: Unknown)