Aritzia Canada: $66 Off Talula Balfour Jacket (Now $99 | Was $165)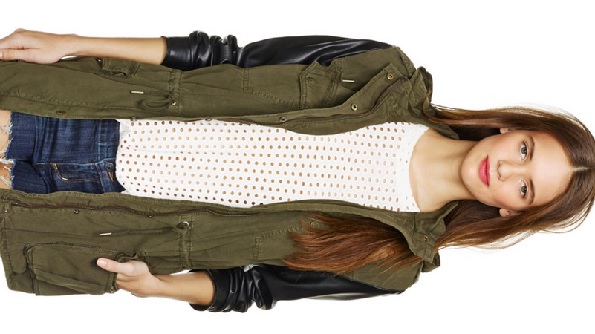 There is a great deal at Aritzia right now on the Talula Balfour Jacket. Instead of its full price of $165, you can get it for just $99, which is 40% off.
Available in argentique (grey), dark olive or surplus (brown/ green), the Talula Balfour jacket is 100% cotton with faux leather sleeves. It draws inspiration from a military look, which explains its availability in a "surplus" colour.
It's available in all sizes (extra large) and even sizes like XXXS and XXS, which means that it could possibly fit a teenage girl or perhaps even a child, but do make sure to check the size chart first before ordering. What immediately caught my eye is that on top of having a hoodie for those rainy days, this jacket can also be cinched at a waist to create a more feminine style. It can also be cinched at the bottom in case of really bad weather and features two very large pockets and two medium ones.
Although I love buying purses, I tend to ditch them in favour of pockets when I'm running quick errands and so, I could definitely see this jacket being useful, especially on colder days. It even looks like the bottom pockets are large enough to hold a wallet, keys and a cell phone -- perhaps even all in one!
Since shipping is only free on orders over $150, I suggest you have a look at Aritzia's sale section for a filler item. What I like about their sale category the most, other than the deals of course, is that unlike most merchants, you can sort the items by percentage off. So you could search for items that are 50% off or more to quickly see what would yield the highest discount. The Kiara sweater, for instance, could be yours for 50% off at just $62.50 (reg. $125). Since it's 100% cotton, it's bound to be super soft and comfy and although it's summer, I could see it being perfect for either cool evenings spent relaxing with friends in the backyard or long week-ends camping in the great outdoors.
(Expiry: Unknown)