Apparel From $3, Sale Prices Up To 70% Off @ Forever 21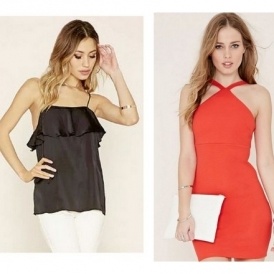 Forever 21 is great at putting on big sales and with this sale that started today, you will find great fashion deals at up to 70% off of a selection of apparel & accessories. Prices start as low as $3!
Once you click on the above link, you can further refine your search via size, colour and price to quickly find the clothing that is best for your preferences.
This halter dress is gorgeous! The 'tomato' colour is strong and matches the bold design of the dress. It's on sale for only $15.00, down from $26.90.
You will find so many unique styles you will definitely be pleased with this sale.
Shipping at Forever 21 is free if your order is over $50, otherwise will be $11.95.
(Deal expiry: July 12th)