American Apparel: Up to 70% Off Blowout Sale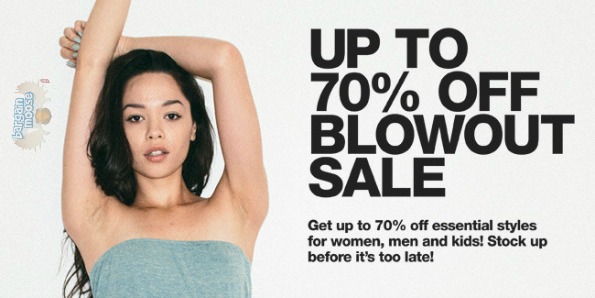 Save large amounts of money on fun clothing during the American Apparel blowout sale.
So American Apparel is advertising this as an 'up to 70% off' sale yet the deals far surpass 70% off. This Helvetica Alphabet T-Shirt was $26 and is now $5. A few quick calculations tells me that discount is just over 80% off the original price. This sale is certainly worth your time!
For a fun basic, this Baby Rib 3/4 Sleeve Raglan is a bargain buy. Originally $25, it is now on sale for $5. Choose from five different colour combinations with the sizes small, medium, or extra-large still being available amoung the choices.
I don't quite have a hosiery fetish but I do believe they complete any skirt ensemble. This pair of Sheer Luxe Back Seam Hold-Up stockings regularly costs $30 and is now on sale for $10.
If you are looking to treat yourself to a little luxury without the price tag the word luxury usually evokes, than consider buying this Silky Romper that was $70 and is now on sale for a mere $15. I would suggest buying one in every colour: peacock, black, creme, and coral. Even if you bought all four colour options you would still pay less than the original price of one of these rompers.
Get free shipping on orders of $50 or more.
(Expiry: 16th March 2014)