American Apparel: End of Summer Sale 30 - 50% Off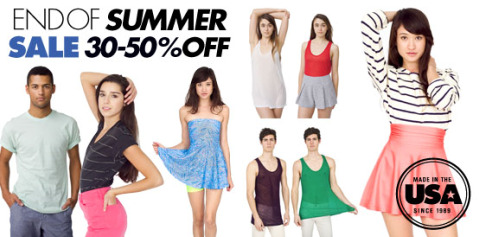 American Apparel is indulging our wacky side and offering a sweet sweet deal of 30 - 50% off a great deal of clothing and misc. things! Both men and women can take advantage of this sale, no coupon code needed.
You can check / un-check the boxes at the top to sort by men's / women's and narrow the field by either 30% off or 50% off. I like BIG discounts so here is some stuff I found at 50% off:
Since this doesn't require a coupon, sign up for AA's newsletter to get a coupon code for an extra 15% off or if you are spending over $100 check out the Free Gift for You link and use applicable code for the free item you want!