Amazon $30 credit Toward Next Purchase when spend $100 at Amazon.ca Fashion Store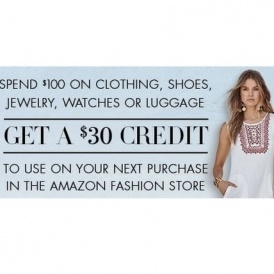 Have you purchased clothing and accessories yet from Amazon.ca? I have many times - sometimes I couldn't find the right size at a local retailer, but found it online at Amazon.ca. Other times the selection was so poor in-store, and Amazon.ca had a better selection.
Typically Amazon.ca can have better prices (and free shipping if a purchase is over $25 or if you're an Amazon Prime member, on eligible items)
This is an impressive deal... Spend $100 on clothing, shoes, jewelry, watches OR luggage and get a $30 credit to use towards your next purchase in the Amazon Fashion Store.

For a sale like this, I'd look for items I routinely order, such as socks and underwear for the family and of course, luggage.
There's a bunch of fine print, but here are the basics of the offer:
Offer applies only to products shipped and sold by Amazon.ca. Thirty days after making a qualifying purchase of at least $100, you will receive an e-mail from Amazon.ca with redemption instructions. Your $30 Credit will be added to your account after 30 days. See additional terms and conditions below.
Just make sure that when you get your code from Amazon.ca that you remember to spend it before Dec. 31, 2016. That's one of the items mentioned in the fine print. The other condition to watch out for is to double check that your items are both sold and fulfilled by Amazon.ca in order to qualify for the promotion, as mentioned above.
You would have to complete your transaction in one order, so shipping would be free.
(Deal expiry: Offer expires at 11:59 p.m (PT) on July 24, 2016, but credit voucher expires Dec. 31, 2016 at 11:59 p.m. (PT).)